Here Are Stunning and Sparkling Hair Accessories for Your Wedding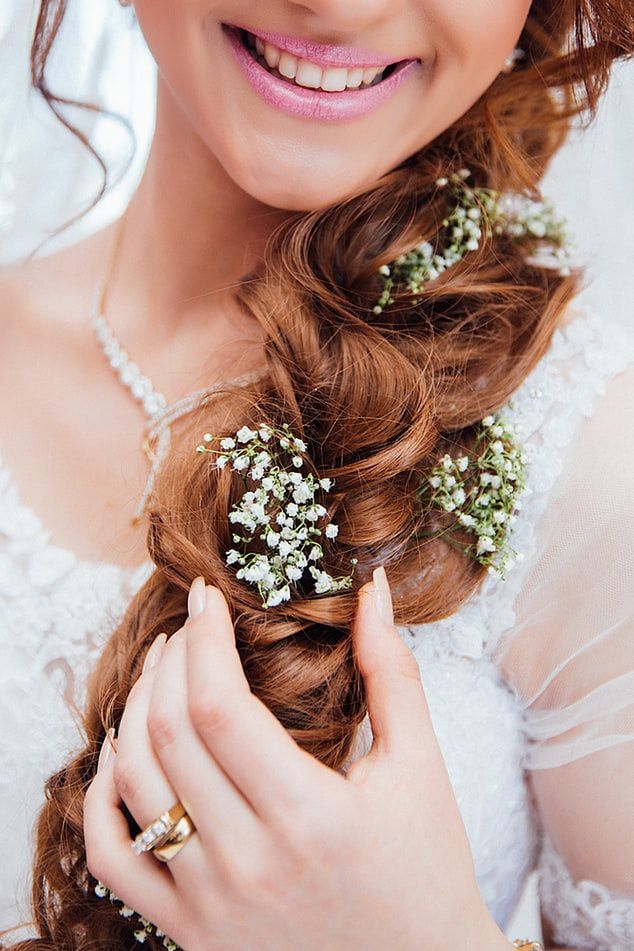 Your hair completes your wedding-day look. It also plays an all-important role in securing your veil and holding accessories you choose to wear. Because you are expected to be the most beautiful in the ceremony, prepare to dazzle everyone with your choices for all things shiny and sparkling.
You have many options in styling and adorning it with pieces that mix fancy and fun. Even the most minimalist bride can go for accessories that are understated yet powerful. Bask in the glow of these embellishments on your head, and appear most glamorous and gorgeous on your wedding day.
Tiara
Your hair is your crowning glory, and there's always a tiara to sit on the crown of your head. The tiara is a glamorous headpiece closely associated with royalty, most recently worn by the Duchess of Cambridge. Princess or not, you can sport one when you wed—with some gentle reminders, however:
Wedding dresses that are formal, simple, and traditional suit a tiara.

The tiara provides the glitz, so you can keep your earrings and necklace simple.

Tiaras come in different styles, such as wishbone, regal, double band, headband, and wreath.
Headband
If you feel too self-conscious with a regal or wishbone tiara, a headband will provide the glitter without looking too imposing. Bridal headbands feature crystals, pearls, bows, and other accents. They can also look delicate or ornate; otherwise, go for a perfect fit to avoid headaches.
Hair Comb
Hair combs are arguably the most versatile and most effortless to style among the hair accessories featured here. These pieces with hand-crafted details add drama when worn at the side or back of a bun, whether tightly or loosely done. If you intend to let your wavy tresses cascade, you can position the hair comb like this and secure it in place with pins.
Hairpin and Clip
Bridal hairpins may be small, but a number of them lend an overall effect of whimsy and opulence. The most popular ones are flowers with accents and in shades of peach, blush, and ivory, the traditional wedding palette. Hair clips are straightforward but still eye-catching. These metallic clips are embellished with crystals, pearls, and rhinestones.
Fascinator
A fascinator is a statement in itself. It does away with further accessorizing if you want to keep things clean and minimal. It can also double as a veil.
British high society is fascinated with theirs, and you see women putting one on during royal weddings. As with the tiara, no rules will stop you from sporting an elegant fascinator on your big day. However, the design and size of your fascinator should complement the length of your hair and its style.
Flower
Nothing beats fresh flowers to remind you of the scent and beauty of spring and summer. Blooms can go well with any hairstyle, plus they are naturally colorful, classy, and utterly captivating. You can tuck a large flower behind your ears or weave a bouquet into your hair; who's to say you're not a beaming bride?
Flower Crown
Do you like freshly plucked floral accents for your bridal hair? Then a flower crown or garland tops the look, sending good bohemian vibes. It does not have to be all blooms, as you can fit greens, beads, and even berries in your diadem. With your hair in braids and your dress white, you fit the bill of a goddess or nymph who got married one quiet day in the woods.
What about the Other Sparkly Things?
Accessorize with earrings, necklaces, and bracelets.

Fine jewelry pieces can go well with the hair, makeup, and dress to complete your bridal look. Don't overdo it though because these accessories may clash. To be safe, wear jewelry according to the style of your wedding gown.

Let your wedding dress shine.

If your gown has intricate beadwork or a custom design, highlight it. You may have to trim your accessories or go the less-is-more route.

Keep your engagement ring on.

No etiquette says you can't wear it on your wedding day. Whether it is a 2.0-carat, a 2.5-carat, or a 3.0-carat diamond ring, show it for the world to see. Someone you know may be looking for one; refer them to

online stores that sell engagement rings

.
Undoubtedly, you have these tips for hair accessories and more for your wedding to experiment with. It's exciting to see what accessorizing your hair can contribute to the overall styling on that day.
Don't be afraid to let your fancy side peek out and tell you that you can have nice, shiny things and wear them.