How To: Makeup Tips for Beginners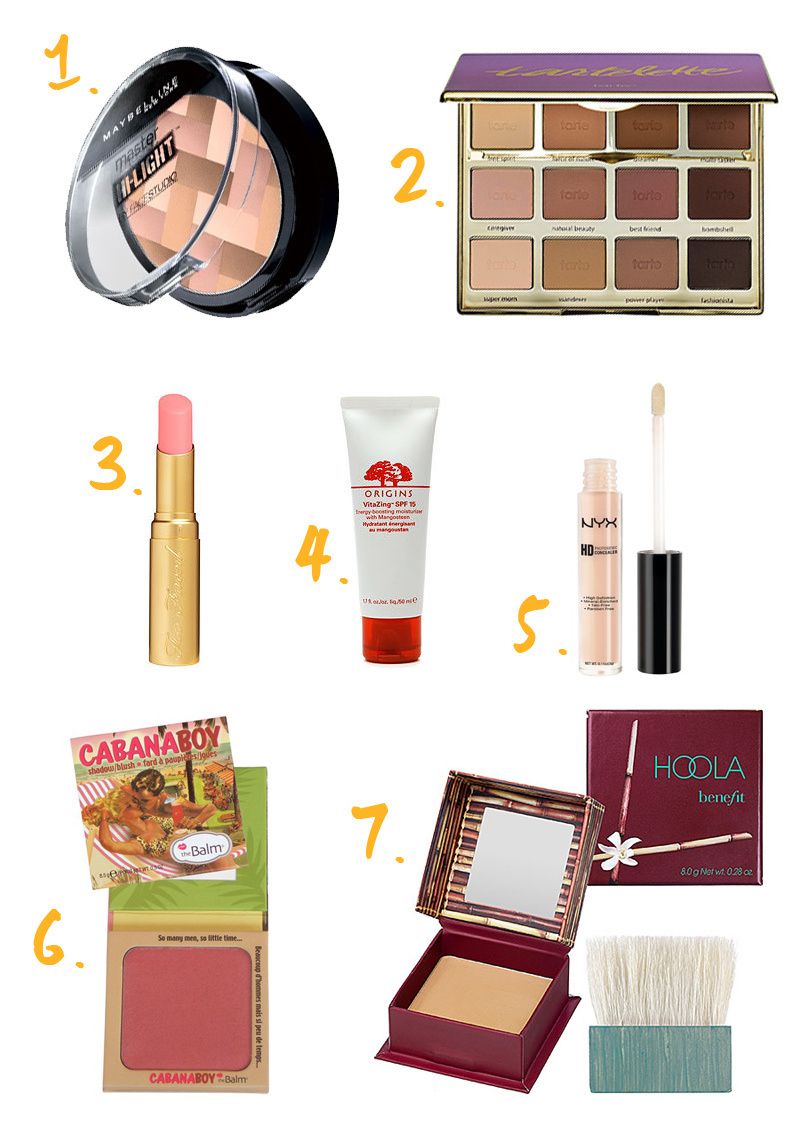 (1) Maybelline Master Hilight Blush in Nude To save time this product supplies both your Blush and Hilight all at once. Great as a blush topper, simply a hilight- or both!
.
(2) Tarte Tartelette Eyeshadow Palette Tarte make the creamiest and easiest eyeshadows for blending. Especially for beginners, I recommend Tarte. Their latest palette is all matte and great for everyday as well as for vamping things up at night.
.
(3) Too Faced La Creme Lipstick For sheer to build-able coverage, I adore Too Faced La Creme Lipsticks. They are so creamy and moisturizing while producing just enough pigment to have naturally pretty looking lips. Shiny, soft but not too strong in color. Perfect for everyday. Also great for complementing a heavier eye makeup look.
.
(4) Origins Vita Zing SPF 15 Moisturizer I'm lucky enough to be able to skip foundation from time to time. Instead I wear a moisturizer with SPF 15 from Origins. It has a sheer tint release that evens out my skin tone enough to only need a little blush, bronzer, gloss, mascara and I am out the door!
.
(5) NYX HD Concealer Wand To conceal the unsightly blemish or under eye circles? NYX HD Concealer. Works really well, with great coverage, yet so natural. And, with a drugstore friendly price tag.
.
(6) The Balm Cabana Boy When I want a natural flush on my cheeks, the kind of flush your high school crush gave ya? My go to is Cabana Boy. So pretty, like a duty rose, slightly mauve in tone. Subtle shimmer adding an all around natural flush to your already pretty cheeks.
.
(7) Benefit Hoola Bronzer Lastly, bronzer. To help define and contour ...or to simple add warmth to your face. Great year-round and this one is universally flattering for all skin tones.