Style Secrets: Getting Red Carpet Ready!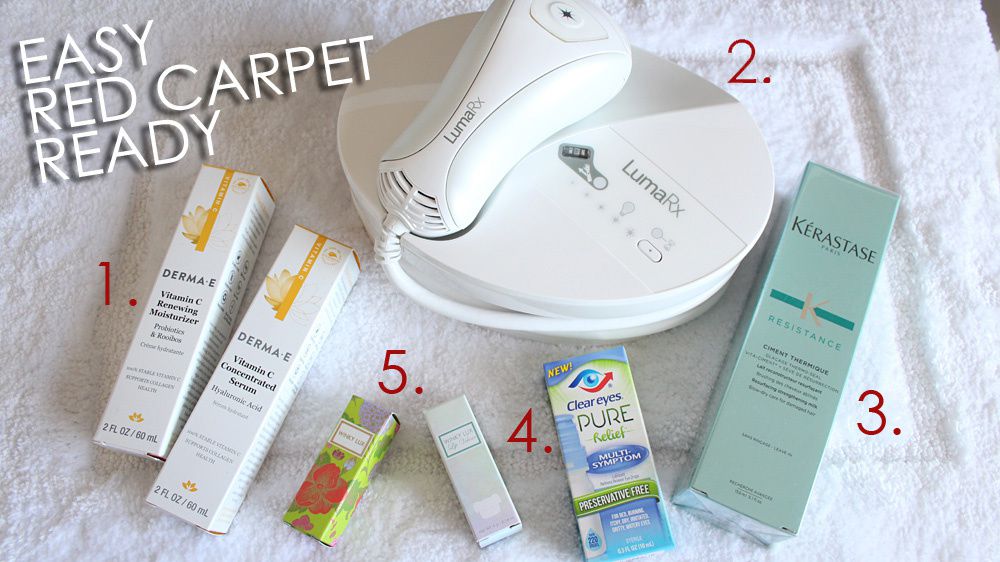 Getting Red Carpet Ready can easily be slang for just looking your best. We all want that, don't we? Whether it's prepping for a company dinner, a first date, or your very special wedding day.
Below I have included some reviews, tips and tricks for looking your award winning best!
Skincare and hydrated skin. Top of the list. If you're skin isn't looking (or feeling) great, neither will you. Think about how you feel after an hour at the gym or simply spending the day on your feet. Your skin gets just as thirsty as you do. That's why it is so important to keep it hydrated. Hydration is key for so many things. It adds elasticity and suppleness to our skin. Making our face look youthful, healthy and emit a gorgeous glow. Drink up. And also let your face drink in the best from serums and moisturizers.
My favorite are these from DERMAE.
Vitamin C Serum: Apply onto clean face and neck. Use in the morning and evening alone or in combination with our DERMA E Vitamin C Renewing Moisturizer. Fast-absorbing, high-potency serum; Penetrates deeply to deliver antioxidant protection and essential hydration; Lightweight, brightens, boosts collagen health and minimizes the look of fine lines and wrinkles; Reduces signs of aging by defending skin from environmental aggressors and free radical damage; Aloe and Vitamin E moisturize and soothe.
Vitamin C Moisturizer: Apply a rich layer onto clean face and neck. Use in the morning and evening. Works well under makeup. Radiance-boosting, lightweight day moisturizer; Naturally supports collagen health; Protects skin from pollutants and impurities; Smooths, firms and revitalizes; Improves the appearance of uneven skin tone; Minimizes the look of fine lines and wrinkles.
Both are extremely hydrating and they both also offer a burst of brightening Vitamin C Skin Care.
Talk about a tall drink of water! ;)
Taking care of the appearance of the rest of your body is also important. Eating healthily. Working out on the regular. Just keeping yourself in fine tune. Sometimes, the maintenance can become daunting. Sometimes, we just want to take a day off. That's where the LumaRX Full Body Device steps in to save the day. Worry no more about unwanted body hair.
LumaRx® technology emits light energy that penetrates deep into the skin to reach the hair root. The heat stuns the active hair follicles, which disrupts the hair growth cycle and helps prevent future hair growth. The treated hair typically falls out within 7-10 days. This ability to reach the hair root, combined with a powerful energy level spread across a permanent result.
Worry less about removing hair and enjoy longer lasting smooth skin!
USE DISCOUNT: "BB75" at Checkout to enjoy $75 OFF the LumaRX Full Body Device. This promotion is available until March 11th 2017 at 12:00 EST.
OK, next step. The hair. It's always about the hair. Or at least, my husband says so. You see, when I have to wash my hair, it seems like hours of waiting to him. Wash it. Put special products in it. Blow dry it. Oh yeah, and then I go in with a straightener, too.
I'll be honest, sometimes I want a day off from dealing with washing my hair. That's why finding great hair products always makes me happy inside. I can prolong the length of time between washes and still have a great hair day. Hair products are important to use after washing your hair. They can mend split ends, heal dry hair and even increase strength to our tresses. All the more to build our confidence level. One of my favorite hair products are leave in conditioners. They continue working long after the shower.
Kérastase Ciment Thermique is a Leave-in primer that strengthens and protects my hair during heat styling. Fiber strengthening hair milk fortifies & protects my hair, leaving my hair soft, smooth & shiny. Um, yes!
Thermo-protecting hair primer prevents breakage by 85% and upgrades your blow-dry Provides instant hair surface-flaw correction, customized care and high thermo-protection to glaze and seal the hair for a damage-free, salon worthy blow-dry at home.
Formulated with Vita-Ciment to strengthen the hair fiber from the inside out, and Vita-Topseal to instantly reconstruct the hair's protective outer layer and resurface the hair fiber, this best seller gives damaged hair a second life.
Here's to better, stronger, healthier hair!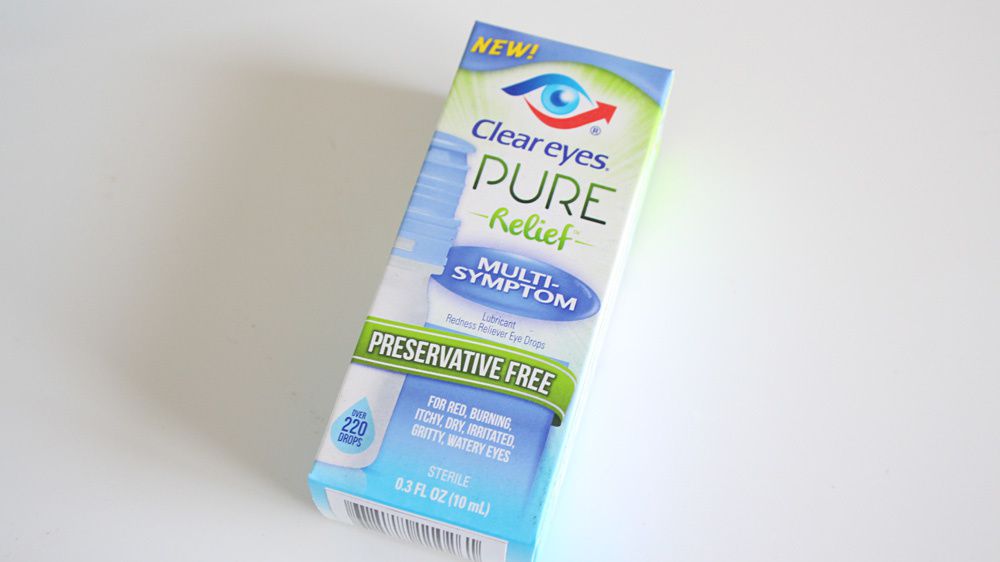 Eyes. If you're anything like me, then the switch of seasons can wreak havoc on your eyes. They get itchy, watery, red, you name it. I start rubbing my eyes and then my makeup smudges. Yuck. No more. Now I just pop a little bottle of Clear Eyes Pure Relief® Multi-Symptom eye drops into my purse and my mascara won't smudge or start to run, the next time my eyes decide to cry due to seasonal irritants. Relieves red eyes, itchiness, discomfort. Wherever I am, I have it covered!
$4 OFF coupon is available from 2/13 to 3/13 on Coupons.com.
Last, but certainly not least. The Lips. Some people swear they look you in your eyes when they are talking to you, or, listening to you talk. I, for one, often find myself staring at a person's mouth when they are talking. I don't know why. But if I do it, certainly others could too. I would hate for somebody to spot super dry cracked lips on me. I slather my lips in balm every chance I get, especially during the drier Winter months. Before bed, and before applying lipstick too.
Step in a balm that works, comes with a pleasant scent ...and a flower inside?
Yes, Winky Lux has created Flower Balms. With a real flower inside! Each balm contains a real chrysanthemum in the color of your choice. Not to mention, it's coconut scented, giving it an aroma so enticing you'll want to wear it every day.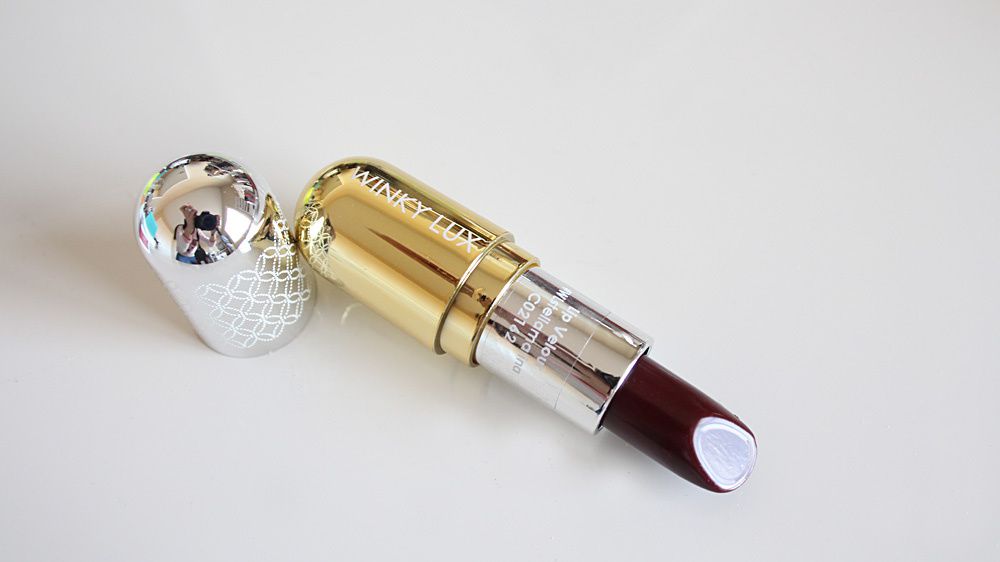 Now that we have our lips prepped and ready for color... comes the fun part of applying the perfect shade of lipstick. I love going bold. Especially when I'm going out. The darker, the deeper, the better.
Stella Marina Lipstick: Spring burgundy with micro flecks of metallic pink.
An ultra long-wearing lipstick delivers intense pigment with a delectably lightweight moussey texture. Infused with natural vanilla for the ultimate sensory experience, Lip pills are packed with suspended pigments giving lips a cushiony, plush feel.
And, Voila!
We are ready.
Red Carpet Ready!
Get out there and take on the World with full blown confidence.
DISCLAIMER:This post is sponsored by BabbleBoxx.com on behalf of Single Edition Media.