Charleston Fashion Week 2015 - Day 2
Here I am, with the rest of the Southern Bloggers who were invited to Charleston Fashion Week.
OMG!
What a blast we all had!!!
These first few images were taken on our second morning, where we had the chance to visit the Belk Mt. Pleasant store for a Style Challenge. We had 30 minutes, a pair of French Connection sandals to style around, a $250 budget, and a choice of 4 style statements to choose from.
The options?
1. Garden Party (think florals and pretty feminine prints!)
2. Sport Chic (jersey, nylon, mesh & on trend athletic pieces.)
3. Islander (Bohemian, Exotic, Bright colors.)
4. Spare Me (Modern, Architectural cuts, Minimalist Classic.)
I chose #4. Spare Me. Selecting a polka dot cropped blouse from 1. State and and funky printed scuba pencil skirt from Calvin Klein. Both in black in white; just very different prints and patterns. And it worked. I had only 30 minutes and ran around the department store like a crazy nut. The life of a fashionista. ;)
That afternoon, we were treated to cocktails and tropical appetizers during a tour of the tents (Kate Spade, La Mer, Ja Malone.. Oh My!)
And, a special meet and greet with the bloggers. After this trip, I made a few new friends. Cris and Megan to name a few. Thanks for being my partners in crime. I won't forget the time we had! :)
For this casual look I paired light wash Hudson Jeans with a diamond printed sheer blouse from Aeropostale. And Blowfish strappy sandals.
Some shots before the Belk and Trina Turk show. Here I am with another new bestie, Arkeedah. We swapped makeup loves throughout the week. We both chimed in with Milani Foil Eyeshadows! ;)
Also, Cris and I took advantage of posing together before the rain. ;)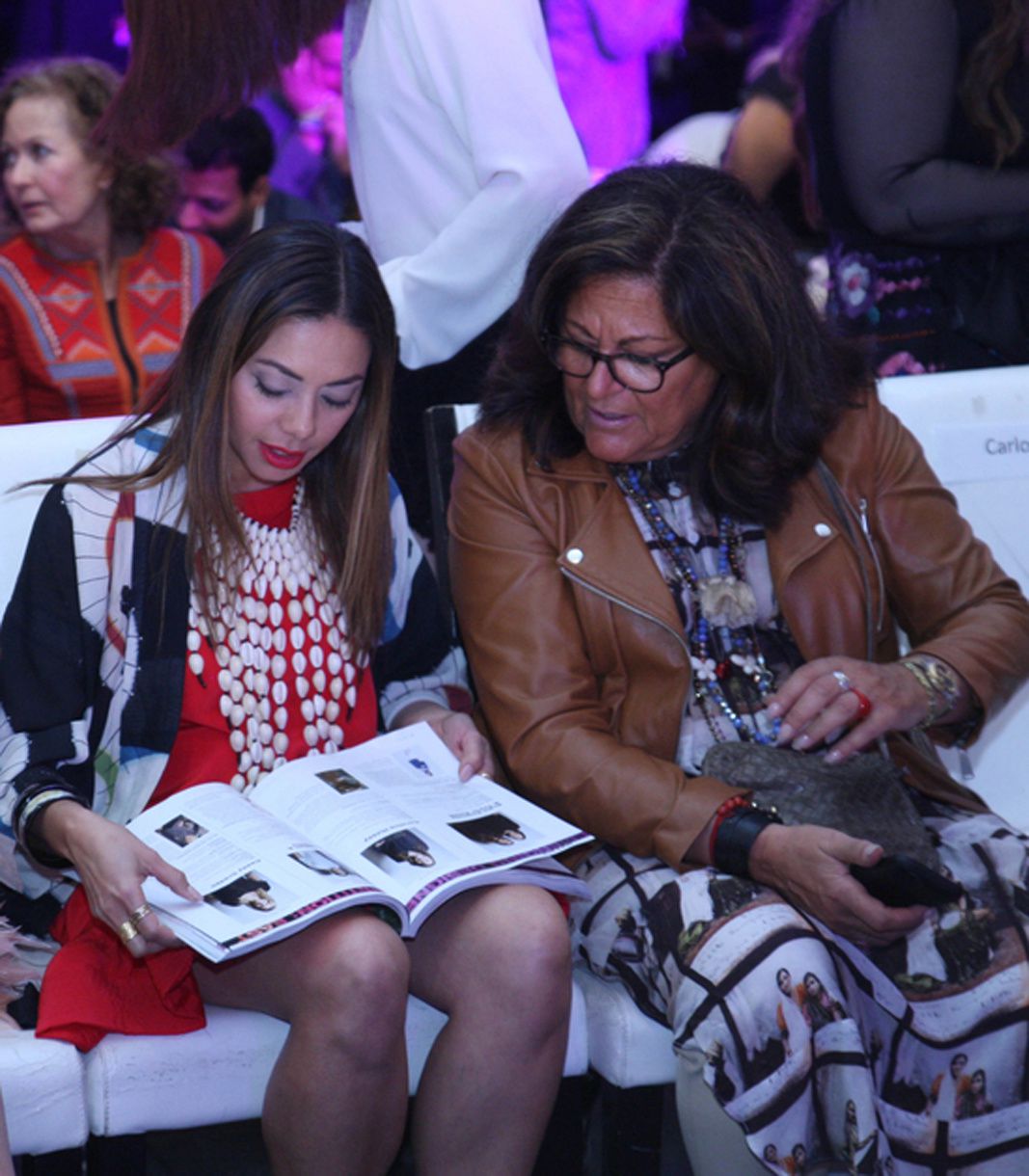 Did you spy Fern Mallis in the image above? She is THE Creator of New York Fashion Week! I was lucky enough to get the chance to chat with her for a bit. Without her, we could not be slaves to fashion. ;)
And here's a recap of the Belk and Trina Turk show!!!
Thank you to Belk, Nunez PR and Trina Turk for this extraordinary, star studded experience!!!
Meeting Trina was so humbling. To see a woman so successful in the Fashion industry, yet so kind and personable. I feel as though I have known her for years, the way we both chatted so casually throughout these events.
And, of course meeting THE Arlene Goldstein! This woman tugged at my heart strings. She is a strong and super smart, business driven lady. I feel so honored and blessed to have been a part of something so special! Meeting them all was a dream come true.
Stay Tuned for more... Tomorrow! ;)