IPSY! Girl Meets Glitter (November 2014)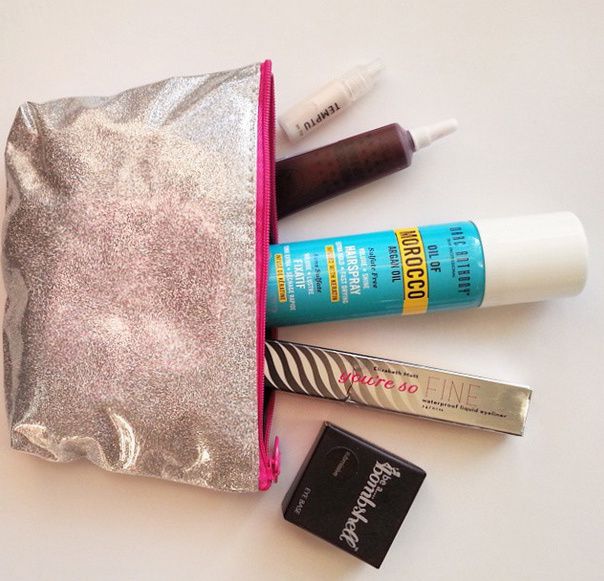 This month's @ipsy bag came! The theme is Girl Meets Glitter. For November I received: @temptu highlighter in 'Pink Pearl' @jcatbeauty Wonder lip paint in 'Red Potion' @marcanthonyhaircare Argan Oil Hair Spray (I never wear hairspray so I will save this for someone else) @elizabethmott you're so fine waterproof liquid eyeliner (heard GREAT things about this brand!) and a @beabombshellcosmetics eye base in 'Submissive'. Phew! What an awesome bag! All this for $10?! Ask me how to Subscribe.
You can Subscribe here for only $10 a month. You will fill out a beauty questionnaire and from there your 5 products will be carefully selected. Each month you will receive personalized beauty, hair products and more. You will also receive a unique makeup bag each month along with your goodies. It's like Christmas every single month! Woohoo! :)
This is a month to month subscription. You can cancel anytime. You can also re-take your beauty quiz as many times as you like (if you start receiving products you may not like.) Ipsy sends out over a dozen products each month. Your 5 goodies are hand selected acording to your Beauty Profile. Make sure to answer your preferences correctly, to receive the best quality product matches. For example: I highly selected lipstick, lipgloss and skin care products. I said no to body lotions, fragrance and other products I rarely or hardly use. This way my bags always come stocked with items I will actually use. The hairspray was a fluke this month. I went into my Beauty profile and checked off "hair styling products" which I had somehow overlooked last time. So no more hairspray for me next month! ;)
If you are interested in trying out December's bag, you can Subscribe here.