Gothic Fashion for Winter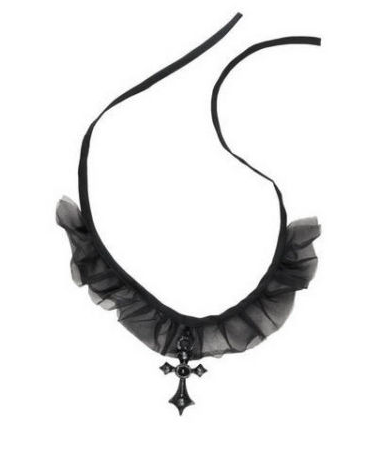 Gothic Fashion for the Perfect Winter Wardrobe
Chokers

Chokers have been a gothic staple for years, but haven't appeared in mainstream fashion since the 90s, and that was mainly teenage girls. But today an alt aesthetic can be achieved with a dark design such as above, which is available on ebay.

Goth fashion has been seen as something of a niche area, restricted to rock clubs,
shadowy bars and regular seaside get-togethers in Whitby: the home of Dracula.

But as with all alternative fashion it filters into more and more shops and its appeal has spread like the wings of a vampire bat.

Gothic clothing is ideal for winter too, to impart some dark style on your getups in a season when darker tones are all the rage anyway. Having said that goth gear is not all black; there are many items that are dazzlingly bright and bold, which contrast with the classic black garments that this niche is known for. That's enough talk anyway; let's take a look at some of the gothic garments that could add an edge to your winter look this year.
Black lace

Black lace is not just the name of the novelty poppers who sang Agadoo, it is also a classic goth fabric and a material that is on trend right now. You can find lace dresses in a number of high street shops at the moment which can work as the foundation of a fab party outfit, or be worn as a classy everyday item.

Stacked shoes

Stacked shoes have been part of the goth-punk world for decades and these items have filtered into a number of high street shops now too, meaning you can add some height and underground style to your winter getups. Keep an eye out for stacked sneakers, brogues and brothel creepers such as the colourful Demonia ones above, available from Gothic Angel.

Leather

No gothic wardrobe is complete without a good dose of leather, and thankfully there are plenty of leather items on the high street today. Leather tops and trousers are particularly sought-after right now and any black leather adds a touch of cool to your look.

Veiled woolly hats

High-end shops are going goth with their hats at the moment, and in retailers such as Liberty and Selfridges you can find veiled woolly hats like this Liberty offering above.

Heels

Party heels don't come much more striking than the gothic designs available from brands like Pleaser, Pin Up Couture and Iron Fist. As we said, goths don't just wear black and we're sure you could create some stunning looks with shoes like the Iron Fist pair above (available from Gothic Angel).
Boots

Winter boots are an essential for every girl and if you really want to make a statement, perhaps some serious goth boots are what you need. The pair above is from New Rock but if you want a little more femininity this label also has huge-heeled offerings such as the following pair (both available from Gothic Angel).

So if you want to bring your winter wardrobe to life and give it a new, dark edge, go goth.