I'm Hosting Another H&M Grand Opening {Greensboro, NC}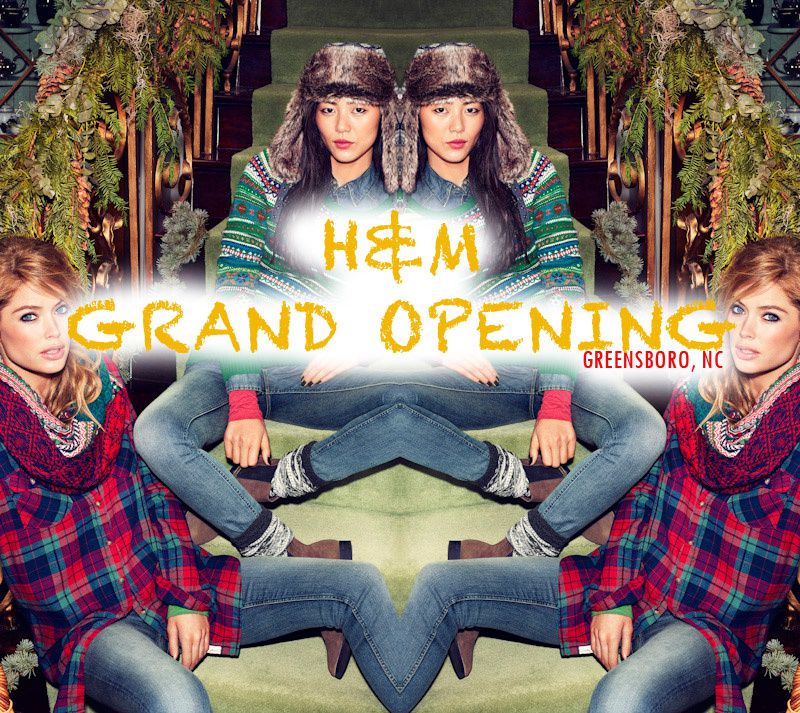 Guess what?! I will be hosting another Grand Opening with H&M (at Four Seasons Town Center!) This time in Greensboro, North Carolina. {Thursday, November 14th, at Noon.}
#HMlovesNC
"North Carolina has been an important market for H&M's US expansion this year," says
Daniel Kulle, U.S. President for H&M. "We opened in Raleigh this spring and are proud of
our two new locations opening this month at Northlake Mall in Charlotte and Four
Seasons Town Centre in Greensboro. We look forward to continuing our growth in the
region in 2014 and to provide even more families quality fashion at the greatest value."

The approximately 22,000 square foot H&M at Four Seasons Town Centre will offer
collections for ladies, men, young ladies and young men, with separate "store within
store" sections for accessories, lingerie, maternity and its plus-size line, H&M+. This
location will also carry the Swedish retailer's fantastic children's collection, which features quality clothing for all kids of all ages, from newborn to fourteen years.

H&M is proud to partner with the American Red Cross' Holiday Mail for Heroes program
to provide cards and personal messages to troops during the holiday season. H&M is
inviting customers to join them at select store openings during the month November in
support of those who serve to protect our livelihoods. Each year the American Red Cross
provides assistance to more than 2 million service members and many of the nation's 24
million veterans. To find out more information about the partnership please visit
http://www.redcross.org/cm/handm-pub.

H&M, one of the world's largest retailers known for offering fashion-forward apparel and
quality basics, is also the largest user of organic cotton in the world. The store at Four
Seasons Town Centre will offer the best of sustainable fashion through its Holiday 2013
collection. Allowing Greensboro consumers to shop in style, H&M will offer the latest
Holiday trends such as sequined and embroidered knits, lightweight down jackets, sheer
dresses and slim fitted trousers for women; and wool jackets, oxford cotton shirts, and
tweed trousers for men.

In celebration of opening day, H&M at Four Seasons Town Centre will offer the first 200
shoppers in line an H&M t-shirt and Access to Fashion Pass, valued from $10 to $300, in
addition to other fantastic opening offers for the whole family!
* Follow H&M on Twitter @HMUSA or Facebook to learn more details!
THURSDAY, NOVEMBER 14TH AT NOON!!!
WILL I SEE YOU THERE? MARK YOUR CALENDARS... I invite all of you -my local readers- to attend the opening with me in Greensboro. One lucky reader will have an opportunity to win a style consultation ( by me ) of a head-to-toe outfit courtesy of H&M with early access to the store. We can go shopping together before the crowds!! How fun!!
* HOW TO WIN? *
On Thursday, Nov. 14th:
THE FIRST PERSON (IN LINE) TO TWEET ME:
@fashionchalet and @HMUSA with hash tag #HMlovesNC will win the Shopping Spree with me!
See You There!! I Can't Wait!!! Good Luck!!