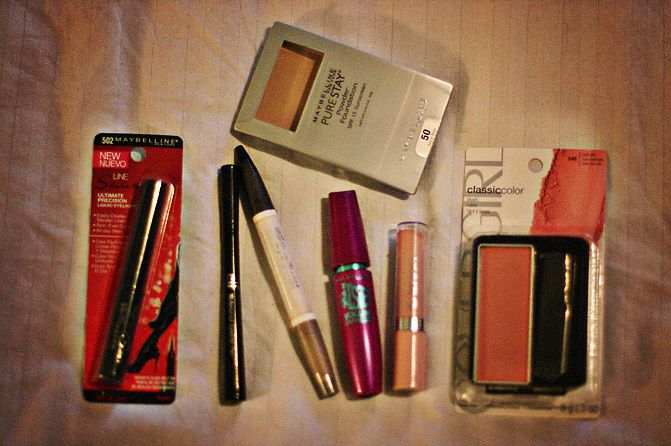 Covergirl

,

Maybelline

,

Elf

, and

Rimmel

- My Daily "Go-To's"

I have been receiving quite a number of emails regarding my daily makeup regimen lately. In all honesty, it only takes me 10 minutes to "put my face on" so to speak. I start with a pressed powder foundation (

Maybelline

is my go-to!) and apply a few drops of water to my sponge to create a smooth application. Once dry, I pat on some blush with a big faced brush. I line my eyes with Rimmel eyeliner (I tend to smudge it around the corners when finished with a Q-Tip.) For a night out or a special event, I'll line my upper lids with a liquid liner cat eye Circa 1961 and mascara.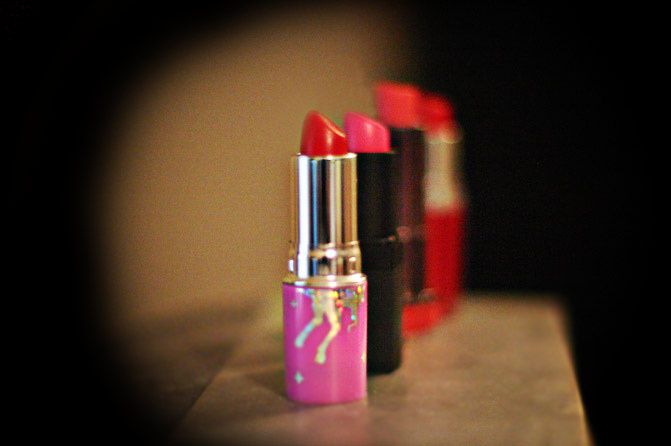 Lime Crime in Red Glamour, Nars in Schiap, a soft peachy-pink from Covergirl in Fairy Tale, and Maybelline in Red Revolution
When it comes to Lipstick, truth be told, just a few years ago I never would have stepped outside in super bright lipstick. Why you ask? Because I shied away from the attention and it felt like a spotlight on my face. I would wonder,
"Was I too made up? Did I look like a clown?"
I wasn't comfortable with the added attention it might bring my way. Instead, I would only wear lightly tinted glosses or nude lipsticks.
Now? Well, now I certainly embrace the idea of colorful lipstick. I feel more confident in it. It makes me happy to catch a reflection of my colorful lips. I feel alive and confident. It reminds me (and also makes me question) why I was so afraid to break out of my shell before? In high school, I was so different from who I have become now. I am much more comfortable in my skin now then I was back then. I think that's a part of most every teenage girl's territory though, growing up and feeling awkward or shy? Now, I can't get my hands on enough richly hued makeup. It's a great way to experiment and have fun. Makeup is just as much of an accessory as the latest "it" handbag or stylish new shoes. And much more affordable too. I say dig in and play!
P.S. ---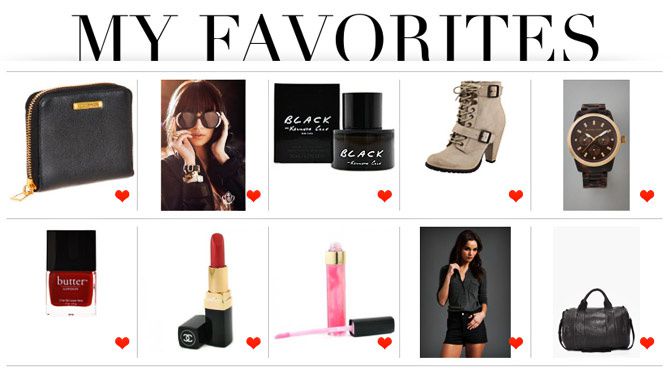 ↑ Join me on CurrentlyObsessed ↑
➪ Password: Fashion_ChaletObsessed
➪ I have 24 invites left for you to Join! :)
Log-In Now to start Stalking My Current Fashion Obsessions! :)