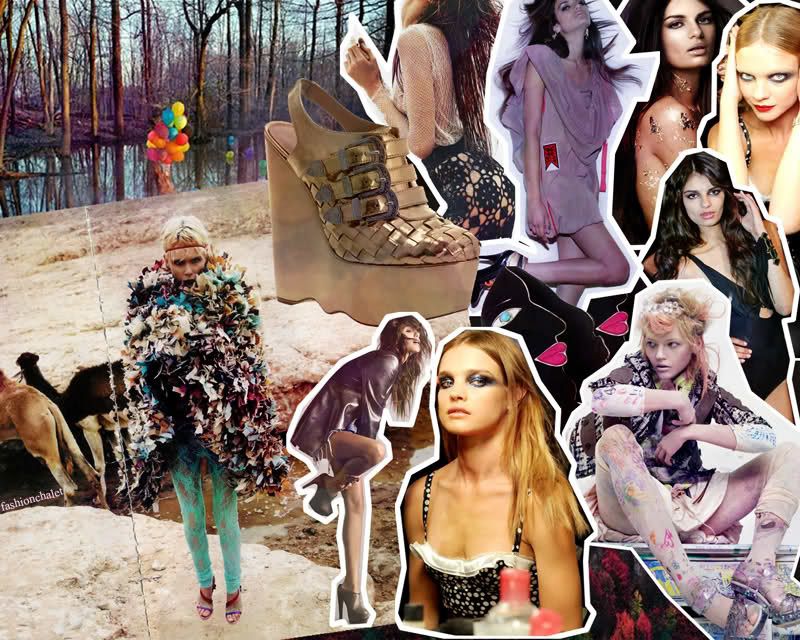 A miniature capsule of enchanting fixations.
Lately photography blogs and sites have been inspiring me left and right.
Voila
, another Collage is born. The
Ashish for Topshop
platforms, dead center, would easily feed my Chanel clog cravings (come Spring) in one fell swoop.
Crochet, Abbey Lee, Natalia Vodianova, haute couture fashion shows, Givenchy, Charlotte Lohmann, balloons, pretty pictures of landscapes, sandals strapped in rainbow hues, Long hair, Dolce and Gabbana footwear, pastel purples, cut offs and blazers, stacked heels, Picasso unbound, extra smokey Halloween eyes, graffiti tights and leggings, Sasha Pivovarova, confetti coats, turquoise accents, red lipstick and polka dots.
Unicorns may be mythical yet they still possess the kind of magic I seem to crave in fashion editorials, haute couture, decadent designs and my imagination, all displayed above. I also think I'm on an extreme platform shoe kick; I just want to keep the train going. Platforms may be a thing of the past, but I will never stop lusting after them.