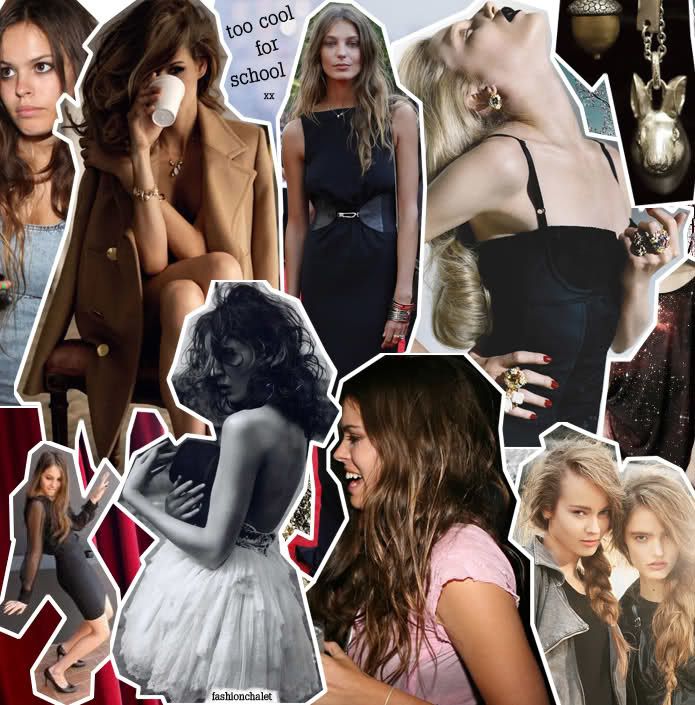 It seems that all of my titles for November's posts have started with an "S" haha. I promise it's not on purpose. Anyway, I woke up today to a boring, bleak, gloomy Tuesday. The fix? A large vat of mocha-coffee, iTunes on shuffle and putting my best Collage making hat on. Hope you like. ;)
Who else watched Gossip Girl last night? Thoughts?
For this Muse Board, I found that my inspirations derived from everything girly, tough, decadent, and romantic -with a soft touch. If I were a fraction; I'd be divided into those 4 parts; equally. 4 very respectable genres. Daria Werbowy in a long, black, straight dress took over the collage- dead-center. Addams family influenced perhaps? Gotta love that. Sipping coffee, a daily ritual and necessity. Soft tulle; as in pretty ballerinas and iconic Carrie Bradshaw. I-went-to-sleep-with-wet-hair-and-just-woke-up-with-romantically-wavy-hair hair. Baby pink? Let's bring it back!! Atlanta de Cadenet, yeah... she's on every blog and almost as cute as Rachel Bilson, just with a harder edge. Dree Hemingway. Hello?! Epic. Bustiers. Sexy lingerie, think 1940's. More messy hair- thank you, Alexander Wang and Miuccia Prada- I love you! Red nails? Always. Stars, space, the galaxy; basically anything intergalactic-al on a t-shirt? HECK YES! Zara, do you ship to NC? Cherry blossom trees. New York City at Twilight. Blueberry scones. Red velvet curtains. Paris in the Spring. Bunnies and Acorns. Willa Holland. "Too Cool for School." All of it together? Priceless....
Srcs: tfs, fashion-canvas, facebook, fashiongonerogue, cobrasnake
Playing Now: Saga | Basement Jaxx feat. Santigold