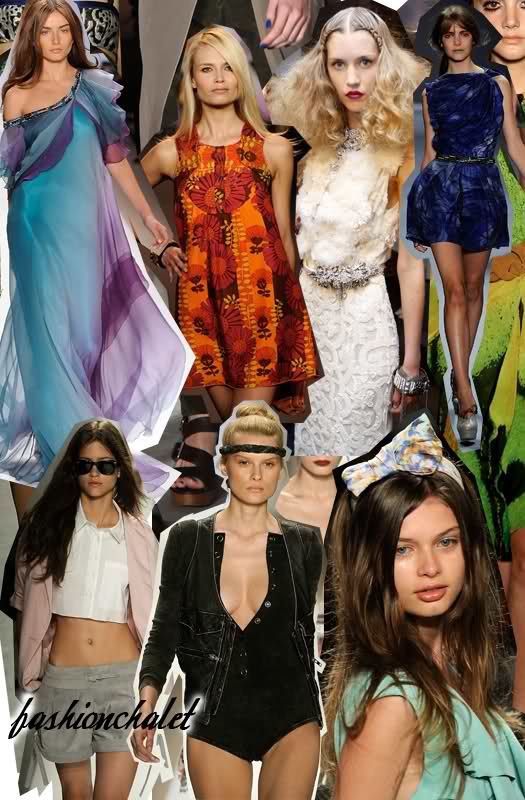 Today just so happens to be a nasty, rainy day... so, I decided that instead of trying to fight it, I would just give in and in turn
stay in
. Luckily I rented a couple of movies the other day (Smother, My Best Friend's Girl and Monster in Law) was able to rifle through a few New York Fashion Week images, and read some more of my
Who What Wear
daily book, which I recently received and have found to be quite fun and informative. I learned how to decipher why I like the designs and designers that I do, and what exactly causes this inclination. After paying close attention to the specific images I found myself saving today, I noticed a pattern. My eyes are quickly drawn to the two extremes; classic and structured cuts using mainly black, gray and white with some kind of metallic detailing, or the other, being color, and lots of it; including floaty fabrics and vintage-inspired prints. I like what I saw from
Anna Sui
and
Vivienne Tam
(all color, hippie frocks and wild in idea) as much as simple and classic architectural pieces seen from
Doo.Ri
and
Vena Cava
. I also have an inkling that another favorite of mine happens to lie in the super-short or body con fitting. Low slung shoulder bags and hefty platform sandals finish the mystique for me.
Some stand out pieces that really caught my attention and adoration were the sparkled, short, zebra-print infused, fun frocks from
Proenza Schouler
. I think it's time to proclaim my crush!
Vivienne Tam
offered up some bright green dresses that made me want to play Peter Pan in.
Carlos Miele
melted my heart with his use of wispy fabrics and bursts of color straight from the land of rainbows and unicorns, or so it seemed to me; magical.
Charlotte Ronson
took aerobic wear and girl's night out wear to merge a simple, fun, yet comfortable, and on top of the trend look. Acid wash bodysuits? Yes, twice!!
Phillip Lim
,
Brian Reyes
, and
Isaac Mizrahi
brought classic, feminine back.
Phillip Lim
, especially, was able to keep a strong hold on basics and classics while still managing to bring in some fun frills and thrills.
Cynthia Steffe
stole my heartstrings with her large, floppy bows, pastel gear and minimal makeup.
Erin Wasson x RVCA
was a hit, once again. See it
here
.
Phi
brought back flashbacks of Tomb Raider and Hackers, for me. In fact, I'd love to see Angelina Jolie in any one of these ensembles.
Naeem Khan
evoked Gothic beauty and The Princess Bride into the overall collection and concept.
Marc Jacobs
never disappoints, especially when it comes to his bountifully colorful
Marc by Marc Jacobs
line. Love.
Jill Stuart
, I just want to tell you how much owning
this
entire look; head to toe (bag included) would mean to me. Adore!
Milly
was fun, provocative and full on flirty. A definite keeper.
DvF
aka
Diane von Furstenberg
stayed true to her roots. To end with a bang,
Dennis Basso
seemed to bring every sultry siren from the old pictures back to life through his decadent dresses and sumptuous accessories.
You're

listening

to
:

Orsten
|
Fleur Blanche
THANKS FOR THE BIRTHDAY WISHES!!!