Win a Tolani Bright Blue Zig Zag Scarf!*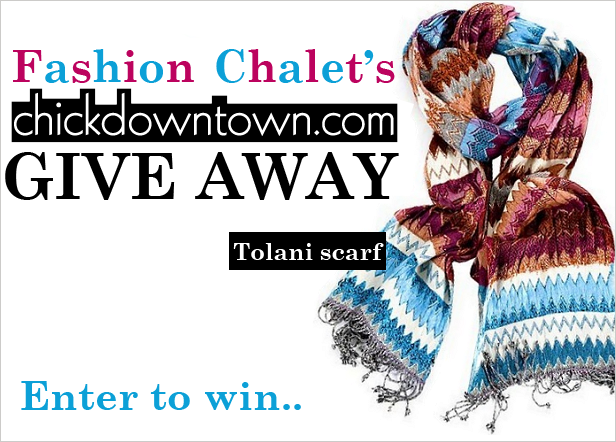 Chickdowntown.com are providing Fashion Chalet with a Tolani Bright Blue Zig Zag Scarf giveaway to one lucky winner (*US residents only; as Chickdowntown does not ship internationally*) Chickdowntown is a really awesome place for women's clothing: such as Tibi dresses, Genetic Denim, Elizabeth and James and are also the largest online retailer of Black Halo, etc. Check out the impressive list of clothing designers.
To be entered into the contest, just leave a comment and let us know your name and email address. Contest ends next week. April 1st/Midnight is the deadline. I will announce the winner sometime next week, after April 1st. Thank you for your entries and Good luck!! :]

*Unfortunately Chickdowntown ships within the U.S. only. International bloggers, I'll try to have another contest that includes you too- and I still want to hear your opinion!