RTW 2009: Anna Sui, Erin Fetherston, Ruffian, Alexander Wang, Emanuel Ungaro, Luella and Louis Vuitton !!!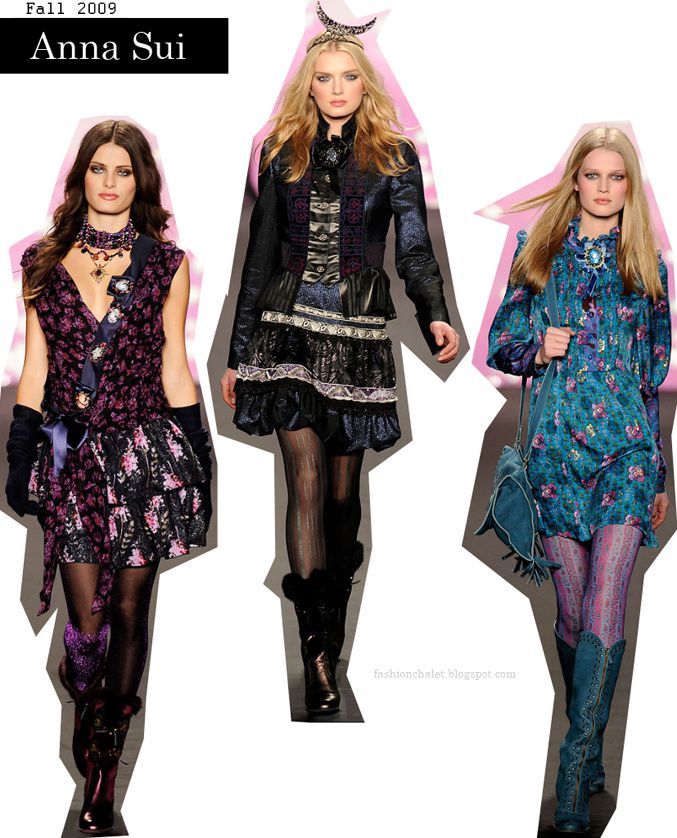 Anna Sui
I had to re-collage Anna Sui. All I can say is that I am still left in awe over her mix of Seventies fashion with fairytale innuendos; all accomplished with a simple melding of cordial colors and flamboyant fabrics; she effortlessly achieved the goal of making it work seamlessly together. The perfect blend of: eclectic, rock and Native American costume.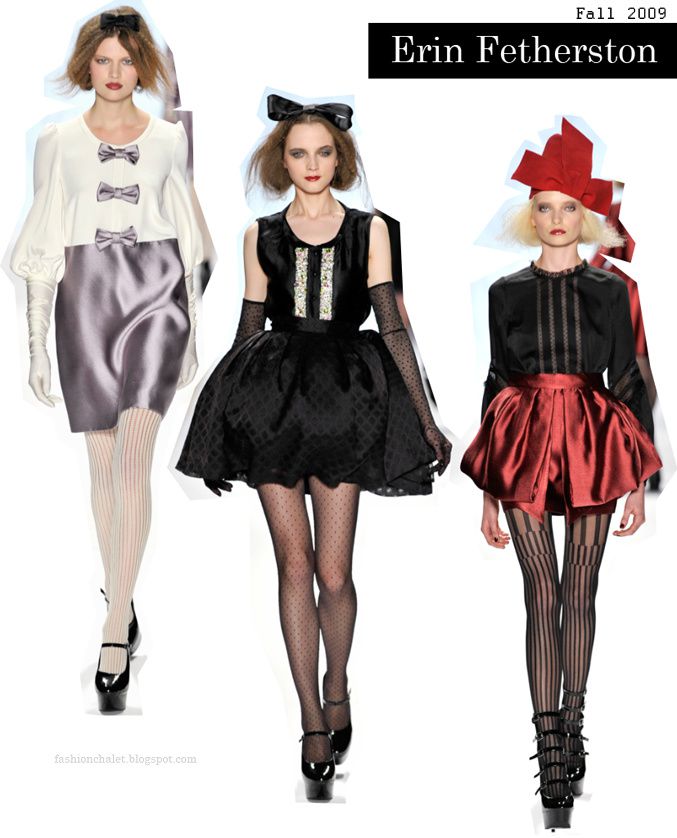 Erin Fetherston
Erin Fetherston, always feathery, fresh and fabulous, managed to capture the American daydreaming girl at heart. OK, I already talked about her previously as well, but ever since I opened Photoshop last weekend; my "collaging" seems to have no end in sight. I enjoy spending hours, especially on rainy afternoons, pouring over the high quality stills on Style.com and then "collaging" them for fun.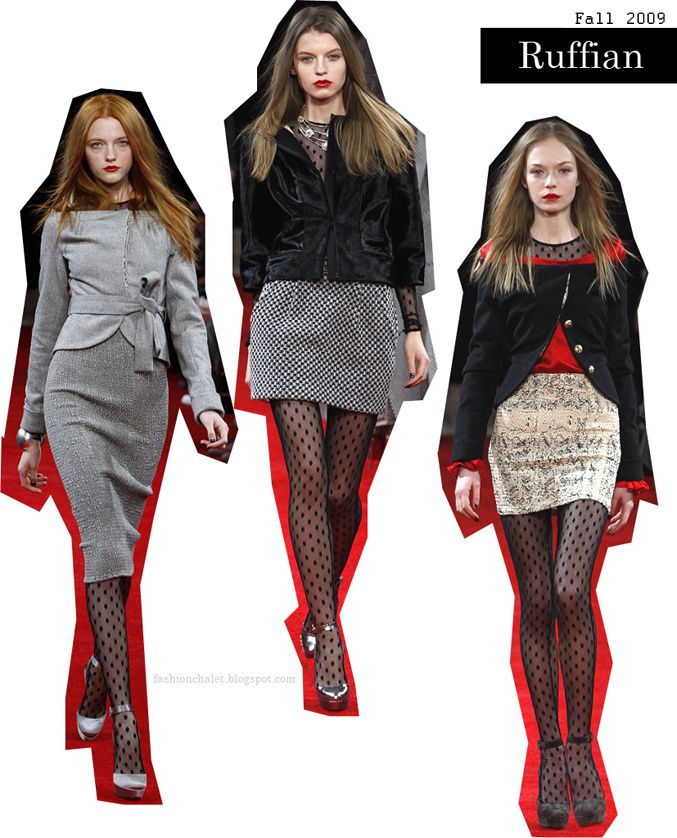 Ruffian
Ruffian, again, very much so reminiscent of Alfred Hitchcock and his stylistic films, one of his most famous, Vertigo, sprang to mind when I first saw the collection. I have only praise; boundless amounts of it, for the line!!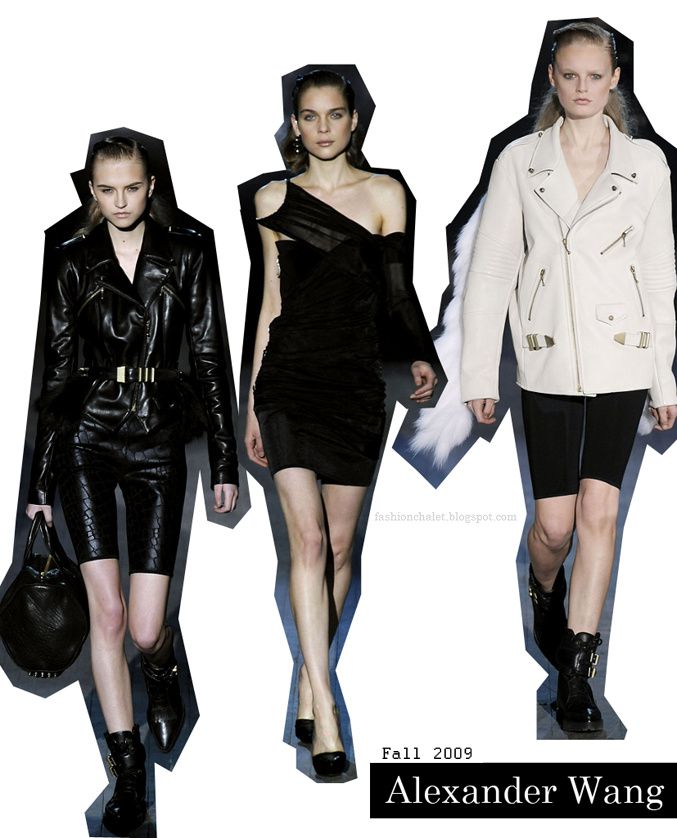 Alexander Wang
Wang, Alexander Wang. A Superhero to many in the Fashion realm. This time around he brought rock and roll present through his shiny leather, very tight biker shorts and bad girl combat buckled boots. (I'm dying that my brown ones are somewhat comparable!!!) He still kept it feminine amid his dressier pieces, opting for body con dresses with embellished geometric necklines and pretty platform heels.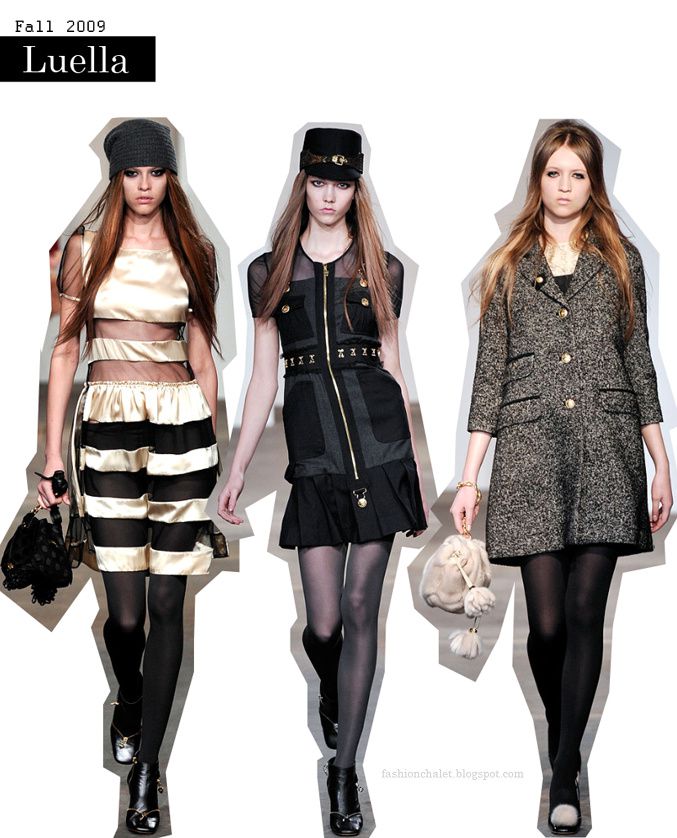 Luella Bartley
Luella, spoke volumes in minimalism. The inspiration board must have had; images of shimmery golds, classic black, buttons and remnants of Gossip girl splattered all over it. In a way the collection is very much Blair Waldorf worthy, but with a bit of punk thrown in, á la Jenny Humphrey. I can't get enough of the gold buttoned tweedy coats and 1950's pom pom adorned shoes. I'd love to march into fall 2009 with one of Luella's hats on my head. Fabulous at its best!
Emanuel Ungaro
Emanuel Ungaro for Spring 2009, captured my attention with its vibrant colors; I am devoted to the applications of goldenrod yellows, bright Ocean blues, Jungle greens and crisp Cruise whites. The flowy fabrics and funky body con dresses, also struck a chord with me. However cute the fedora/floppy hat is; I didn't personally find it necessary to be worn with every single piece in the collection; but I guess he was making a point of stepping into Spring (and Summer) with this accessory on top.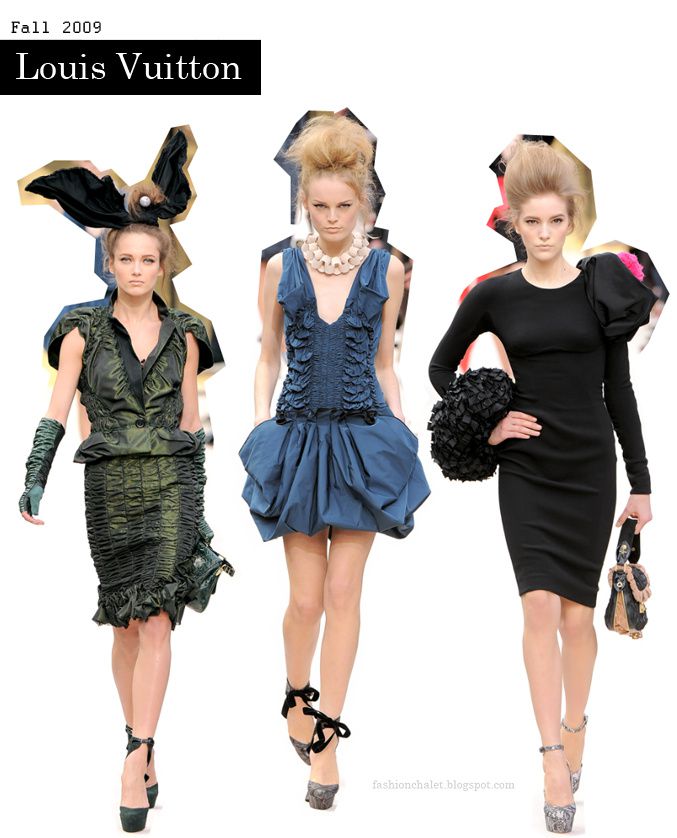 Louis Vuitton
Louis Vuitton seemed to capture Nightmare before Christmas, Easter Bunnies and Gothic brides with a twinge of 1940's feel; and all in one collection. The oversized necklaces and powder blue dresses were obviously an attempt at channeling Betty Rubble, of Flintstones fame, which captured my eye to be honest. The coiffed, yet somehow messy hair, really worked with the pieces, as well as drawing my attention.
When one is feeling under the weather, how does she spend her downtime? Why making collages of course... :]
Images all sourced from: Style.com.