Part III: Anna Sui, Matthew Williamson, Vena Cava, Chris Benz, Lorick, Proenza Schouler, Ohh My!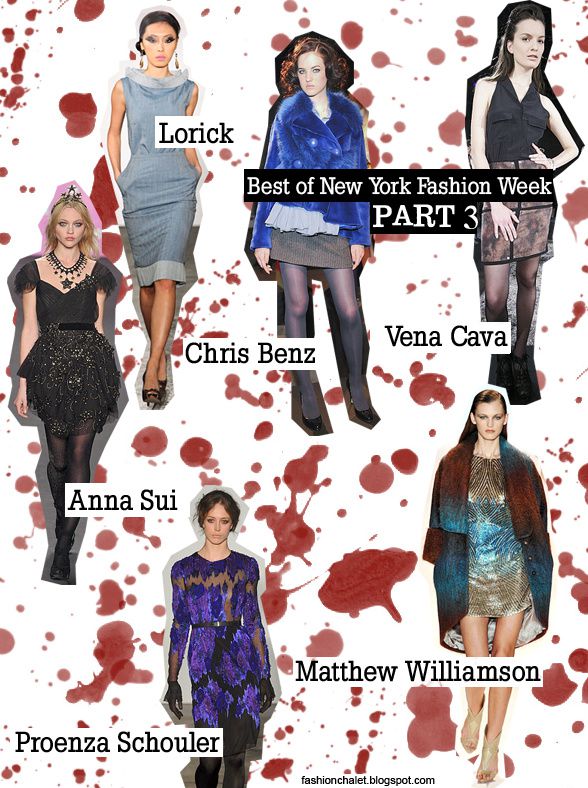 Anna Sui – Eclectic and refined. I never thought I'd be able to parallel those two in the same sentence. With Anna Sui, anything is possible. She is a visionary; a dream maker. And she manages to capture these fairytale-esque happy endings through her collections. With the help of feathers and romantic whimsical embellishments, I can see why she is such a prophet. I'd love to feel the materials she used in my own hands. To don a dress by her would be an extraordinary dream come to life; to say the least.
Chris Benz – Bright lights, big city. I adore the congruent use of electric blue hues within this collection. An American favorite, Chris Benz never ceases to amuse and tantalize us with his seductive, yet crisp creations. He knows his way around fabric and dominates it like no other. Some cult supporters of the line? Taylor Momsen (of Gossip girl fame) and Bridget Helene (of The Fashionista Diaries fame.)
Lorick – Seen prominently on Gossip girl, this line is definitely one to watch. Minimalism at its best. However, by adding simple touches of color here and there; a simple pop of red from a scarf or burst of blue from a brooch is how this house arouses delight. I like to think that many of the cuts and lines found in this collection are homage to the 1950's- when classic, fitted dresses were all the rage. Classic, as they say, never goes out of style. And with the world changing at such a rapid pace, it's a comfortable notion to know that some designers still have the knack and the know how for the classic.
Matthew Williamson – I've always had a fondness for his use of soft colors, such as his infamous slew of pastels, showcased all at once. His designs are a kaleidoscope of wondrously imaginative collaborations. Be it with simple stripes or bold buttons; through the details, I am able to see his thoughts jump off the canvas in turrets of color. I see a touch of Marc Jacobs in his work, polished and taken to the next level.
Proenza Schouler – And who do we spot sitting front and center for this show? Why Mary Kate Olsen and Nicole Richie of course; two of my own personal muses. I sigh as I look through their latest collection, wanting, vying for every piece. I always wait for what they have to showcase next, wait with bated breath. You see, their creative combinations of color, idea and design are always something remarkable. Remember the many folds in their dresses from the fall/winter 2008 Collection? All of which stemmed from an idea about how a paper airplane is folded from a single sheet of paper; genius! I'd give a standing ovation if I could only be there; right now, front row and center, canoodling with Nicole and MK!
Vena Cava – Also, a favorite among the Gossip girl crowd. Black, grey, black? Check, check, check. Drab? Not at all. Sophisticated? Very much so indeed. By infusing some strokes of peachy pastels into the mix, this melting pot of style doesn't have to be an acquired taste; the evidence is enough to speak volumes. These creations meld just as well with the Upper East Side crowd as they do with the hobnobbing, jet setting, socialite driven, champagne drinking crowd.
Images for my collage all from [NYmag.com] Thank you to StardustandSequins for the paint brushes!