New York Fashion Week: Part II !!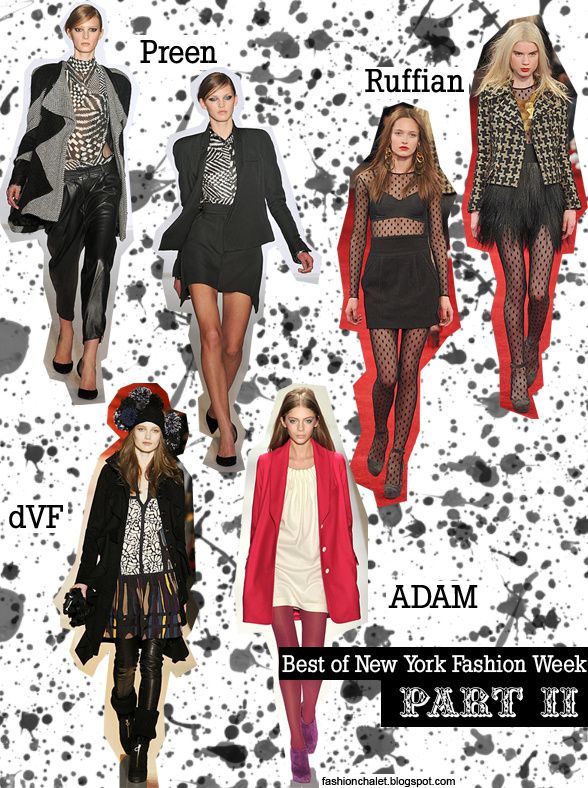 Preen – Caught me completely by surprise and left me in awe over the nonchalant, yet elegant designs amidst its eighties appeal used in all of the intricate details. Another designer sheds some light this season on how black, white and grey can still appeal to the masses, and just as easily manage to stay elegant but never stray away from the modern touches.
Ruffian – From the moment I saw the blood red runway to the body stocking accents, I felt my heart begin to thump. I adore the soft lines, crazy feathered skirts, flamboyant accents in color and sexy vamp red (almost black?!) lipstick. The messy, uncombed- yet cool, hair is the last page to this beautiful love story.
ADAM – Lithe, ethereal, effervescent. I applaud the use of smooth as well as clean lines, pastels and the ever present spring touches (both in color and in fabric.) If ever I dreamed of a real live Ready To Wear line for my Barbie dolls, way back when, this would have been it!
Diane von Furstenberg – The zippered ankle booties and leather leggings have my heart hammering at first look. And at second, all I can see is Russian luxe at its very best. The full coats and furry hats, the touches of elegance that only Diane von Furstenberg can nail, the kind a savvy, fashion forward woman falls in love with; a love that stays with her.
Images for my collage all from [NYmag.com] Thank you to StardustandSequins for the paint brushes!