New York Fashion Week '09 is here!!!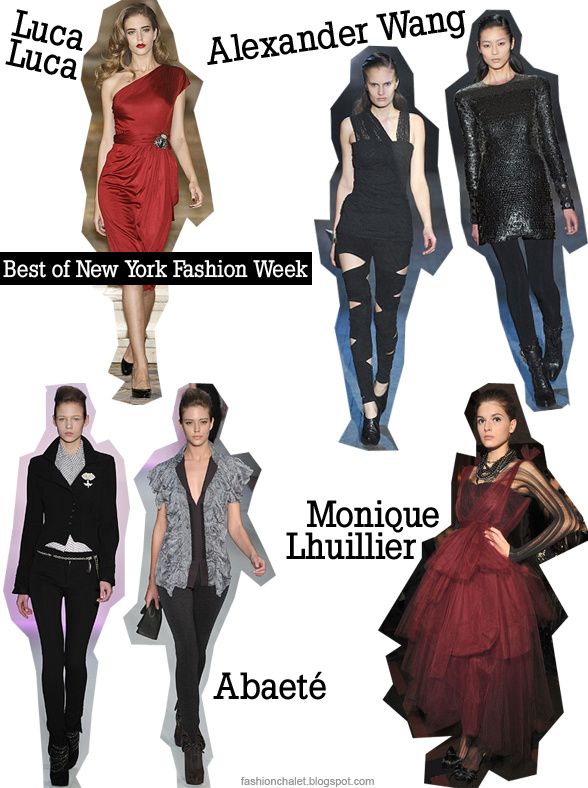 Just as the crisp winter air starts to die down, just a little, the models, Socialites, and Celebrities start coming out in droves; dressed in their best, for Fashion Week. I decided to talk a little about my favorite Collections thus far.
Abaeté -
Crisp, sleek lines. I love how this season is all about the black, grey and white canvas. Yet, by mixing in a few well placed and funky accents, like diamantes, ruffles and chains; and very similarly to the way Balmain and Rodarte did in their previous collections, you too can easily lend a hand at evolving the designs into something modern and marvelous; with a much appreciated twist.
Alexander Wang -
Always current. Always cool. It seems that with each collection, he gets smarter and the all more inspired! I love his crazy cut outs and sleek body conscious designs. I envision turning his pair of cut out leggings (up above) into a wondrous cat suit. Can you only imagine?
Monique Lhuillier -
Gothic glam. Raspberry red and black. Glorious. Genius! The look is part Old Hollywood and part 90's Gothic. I love the unexpected mish mash of lace, full skirted frocks and fishnet gloves. The bows on the toes and layered chain necklaces are the frosting that top off this decadent cake.
Luca Luca -
The Vampy, yet reserved, Vixen steps out of her house in elegance. I'm reminded of the greats: Audrey Hepburn, Tippi Hedren, Lauren Bacall. Red has always been the color used best for attention seekers, love and luxury. Fitted skirts and jackets are also looks to watch out for in this collection. Old Hollywood is back with a bang and I'm already applauding from the sidelines.
My only wish? To one day get to be there, and see it… live!!!
Images for my collage are from: [NYmag.]