Behati Prinsloo x Polyvore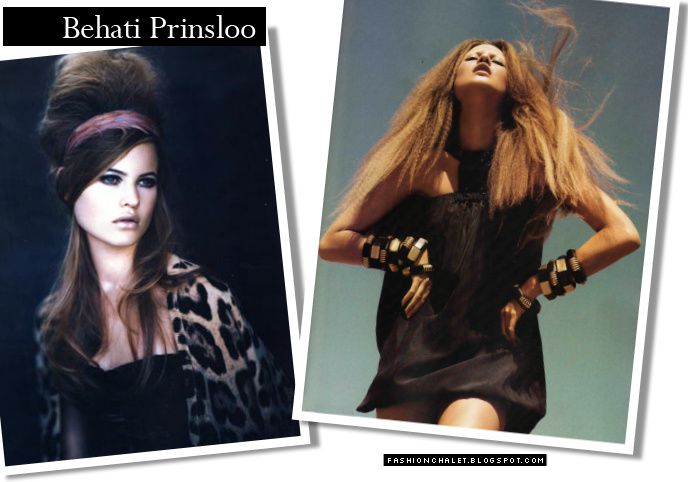 After the immensely positive feedback [thank you] that I received on my last model story and Polyvore outfit on Natasha Poly and always being inspired by La Couturier's novellas, I have made another. In honor of my newest header, the model, Behati Prinsloo, will be the focus of this Polyvore and Story installment for today.
Behati Prinsloo was starting to fall into a peaceful sleep as she thought of the next day's events that would be taking place. Coco Rocha has scored tickets to a great outdoor rock concert and had invited her to come along. Some of the performers would be world famous rock and rollers who had signed up to sing, and others were new; hoping to gain some exposure. As Behati listened to Olivia Ruiz on her iPod to fall asleep, as she always did, she started to decide on what she would wear. Something rock and roll, she mused, yet something sweet as well. She finally settled on her favorite, almost worn to shreds Woody Star gaze tee from Topshop. It was black and the short sleeves were almost bat-like in design, not to mention super soft. Her well worn in hot pant denim cut offs would help set the perfect concert mood she thought. Topshop was her favorite stop. In case the concert took longer than expected and set into the night, she'd pair the clothing with her fingerless gloves from Hot Topic and her soft and ever so comfortable Marley moccasin booties. Coco has given her a Givenchy reminiscent layered chain necklace for her Birthday last year that would perfectly add a juxtapose light of luxe to her overall look, she pondered. And why not throw in her favorite cheap rings; Alice in Wonderland from Hot Topic and a super bright blue one from Forever 21 to complete the accessorized look? Just before finally giving in to her tired body and falling asleep, Behati decided to top it all off with her peacock feather fedora from Forever 21, something she'd borrowed from a past photo shoot and ended up keeping. Tomorrow would be a great day with Coco, she thought, and finally let herself fall into a deep and wondrous sleep. After all she'd need her beauty rest for the noteworthy day.
Hear Behati talk here.
Source: the fashion spot, [hot topic], [forever 21], [topshop]