Hey, you guys! I promise to get back to
all of your comments
from my
previous
post as soon as possible. What a marvelous surprise, getting so many wonderful amounts of feedback from all of you. Can't wait to reply back! I was out of town for most of the weekend, visiting with family, but I'm back now. Ohhh and I scored two of the coolest pairs of boots I could ever hope to find (can't wait to showcase them in the blog, soon!)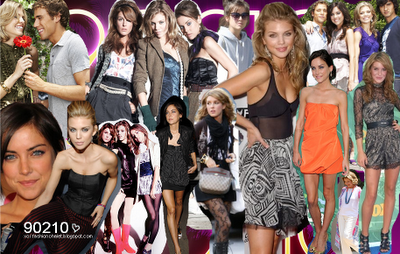 In the meantime, I hope you like the 90210 muse board I made for you. My latest obsession. I actually
just
started watching it,
via
iTunes last week and became instantly hooked. I've only gotten up to episode 4;
"The Bubble,"
but nevertheless, liking it more and more with every episode. I can't decide if I like it even
more
than Gossip girl? My favorite characters are Naomi Clark (deliciously evil) and Ethan Ward (just plain delicious!) I can't forget to mention Jessica Stroup,
"Silver"
who has as much an affinity for
knee socks
as I do and I
wish
I had her steel blue eyes.