Superhero or Super Style?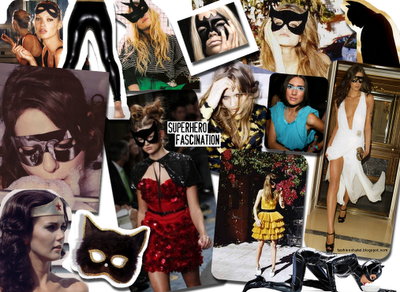 Superheroes and their costumes - ranging from hip hugging latex to primary colored logos - set a new style bar, created an innovative idea and undertook an extraordinary venture into the realm of fashion as we knew it. Whether a Superman or a Wonder Woman, the clothing

made

the name, rendered respect, and above all, inspired the trailblazing set.
Masked identities soon followed suit.

With well recognized labels, such as American Apparel who specialize in shiny spandex and glittering lamé and Luella Bartley for her Catwoman-like editorial in Nylon magazine, the Superhero "effect" is quickly (and just as easily) trickling down into the mainstream. From a casual afternoon rendezvous to partying it up with the night owl set, this trend is altering the masses. The idea is fresh and thus rapidly becoming the most sought after excitement!
From the L.A. club scene to the New York party scene, the "hot spots" are growing more and more accustomed to their clientele accessorizing in Superhero-based themes. Whether bedecked in lamé or clad in face paint, this "look" is fast becoming the norm.

Due to the emergence of street style candids exploding more and more on the internet (The Cobrasnake, The Sartorialist, and Face Hunter - just to name a few) getting creative with your own approach may just help to set you "apart from the crowd" a little bit more.


So, the next time you feel like you need to re-charge your wardrobe, remember that a little shiny this or a little latex that . . . just might do the trick!

For a little more inspiration, check out Christina Aguilera doing her thing at the 2008 VMA's here.
Photos:

cobrasnake, tfs, knightcat, starbucks and jane, nylon, google.