"Summer Sun, Winter Wind."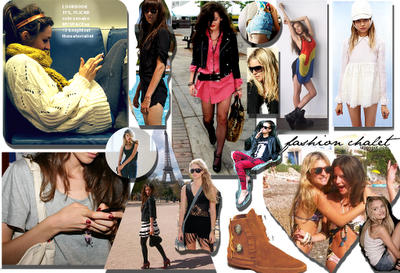 As we begin the transition from sunny weather to cooler conditions, I came up with this Collage that incorporated a little bit of both.
The shift shall be fun.
Let the shedding of cotton jumpers begin, in turn being replaced by chunkier knits. With inspirations deriving from all sides of the spectrum; loose fabrics, bright pops of color and fringe details done up in suede, effortless chic never looked so good. When in doubt? Layer, layer, layer. Rules are made to be broken. Mix Summer with Fall, Winter with Spring. This Season will be all about inventing, experimenting and finding new ways to wear old pieces you once loved and have since forgotten in the back of your closet. There is no wrong, as long as you put your whole self into it. Looking forward to seeing everyone else's ideas. It doesn't get "cold" here, per se, until mid December, sometimes. Wah!
Photo Sources: cobrasnake, lookbook, the sartorialist, tfs, myspace, flickr, and knightcat.