It may rain, but still I see the light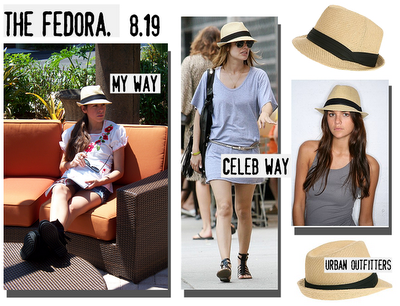 Having ordered my straw fedora a little over a month ago, I only just now realized that Rachel Bilson has the exact same fedora I donned last month in my Blog. Above she is shown in those exact candids (taken a couple of weeks ago) wearing hers. How fun to see one of my favorite peers donning something I purchased without even knowing it was also her latest '

obsession du jour

.' In fact, it is that same outfit I am wearing above that was entered and approved for the

Teen Vogue

snapshot contest entry. Be a dear and vote for me

here

?
Thank you so very, very much

to everyone who has already voted for me
♥
and to those who intend to do so in the near future... all you need is an email to register.

Sources:

JustJared (for candid of Rachel), Urban Oufitters (for the *images I used)