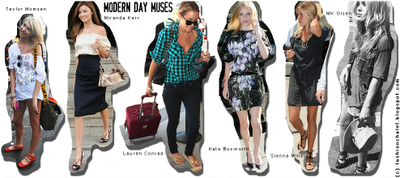 Taylor Momsen, of the widely popular series, Gossip girl, manages to capture a casual look while implementing street chic with the help of her strappy red flats and alarmingly bright yellow shoulder strap bag. Adding in an off the shoulder tee is key in the summer heat.

Miranda Kerr, Australian model, has the natural, fresh faced beauty down to a Science. It is her poise and elegance that shine through most in this feminine look. From the curve hugging pencil skirt to her romantic top, this classic look is also fun for a dinner date.

Lauren Conrad, of the infamous MTV reality show, The Hills, seems to enjoy translating casual looks into something with a little more flair and oomph. She looks best when she is in natural, solid statement pieces. Her collection varies from stretchy denim to fitted plaid tops. She toys with both flats and heels and adores large leather handbags.

Kate Bosworth, actress extraordinaire, lives for cotton pieces. She takes pleasure in belted tops worn as dresses, funky flats and worn in leather bags. In cooler weather she opts for thick scarves, wooly coats and fitted skinny leg pants. She knows how to play with the perfect proportions for her small frame.

Sienna Miller, actress/model, may get a lot of flack for her mimicry of Kate Moss, but I believe she does her own thing as well. She is definitely a fan of the Bohemian Street look, but she also has a way of working in her own hippie vibes, with peasant tops and messy Heidi-like braids. I am indeed fascinated by her ever multiplying collection of ankle grazing boots.

Mary Kate Olsen, model/actress/CEO/Trailblazer, although her twin sister also has a chic mind of her own worth praising, it's Mary Kate whom I most admire. There is a kind of free spirit lurking within her that exudes with every stylistic choice she deigns to don. She doesn't cave to trends; instead she does her own thing. And I commend her for it. Every piece she steps out in is all Mary Kate and nobody else. She isn't afraid to try something new (spike adorned heels) or something old (faded denim cut offs). To some, her ideas may seem ridiculous or thought of as far too eclectic, but to many, she is Queen when it comes to her styling preferences.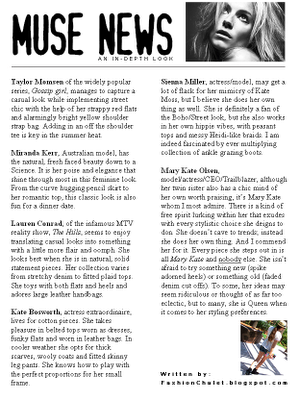 *click to enlarge.
written by: fashionchalet.blogspot.com
sources for celebrity candids: justjared