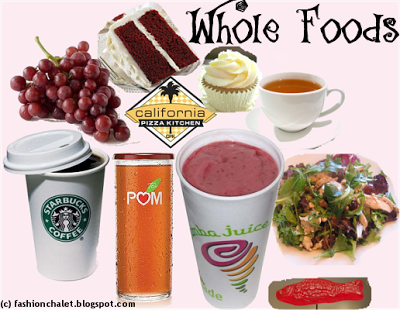 When I start to crave something to eat; it's usually fruit, something salty or honey flavoured. I like to start my day with a cup of fruit, a cheese wedge and some type of fruit juice. I usually follow this up with a light mid-morning "snack let" of a bowl of Cereal with organic 1% milk.
My lunches tend to include an assorted variety of; ham & cheese on multigrain bread, some type of soup or yogurt, Salads, fruit & cheese….
My favorite stops are: Starbucks, California Pizza Kitchen (I caved and went a second time leaving in an absolute bliss over my meal!) Calistoga Bakery, Brio, Kona Grill, J. Alexander's, Red Lobster, Sweet Tomatoes, Subway, Frullati, Su's Garden, The Melting Pot and Chick Fil-A….
I can't help to have a craving for something a little sweet sometimes either. I love Starbucks' Cinnamon Dolce lattes. Red Velvet cake and Vanilla cupcakes are also favorites of mine. I can never have enough Swedish Fish (or Teddy Graham cookies with caramel sauce!) either… Tea and coffee usually start and end my day!