a few of my favourites...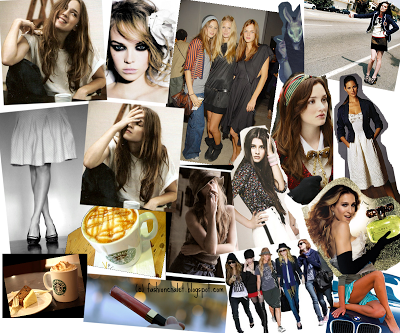 From a cup of Starbucks coffee (sugar-free* cinnamon dolce latte, no whip!) to lipgloss straight from The House of Chanel.. I'm there for it.
~
I really love
black eyeliner
, messy bed-head hair, floral fragrances,
pretty dresses
and skirts, Audrey Hepburn-like flats, Valentine Fillol-Cordier,
stick-straight hair
, shimmery gloss, coffee, chocolate (especially Dove
!
) backstage models, Taylor Warren, Hollywood It-Girls, Celebutantes and

Socialites

, "chick-flicks", salacious
gossip
, "girly" reading, manis and pedis, ice cream sundaes,
vanilla
cupcakes, brownies,
spinach
salads, facials, spa treatments, mindless shopping,

Blair Waldorf

and
flowers in my hair
....